..:: Snowman Rally 2008




!! Saturday 16th February 2008 !!

Please note : This is not the official website of the Snowman Rally. The official website can be found at www.snowmanrally.co.uk
2008 Event - Photo Gallery

You can now order prints and other items from


If you require prints of photos not available on the photobox gallery. Take note
of the photo you would like to see, contact me and I will make it available for you!
Back to top

2008 Event News

Update: 17th February 2008 - 17:12
Currently uploading the photos to the site! But for now you can check out the photos from the Bonar-Bridge Service area!
Photos from SS1 and SS5 will appear soon!
Thanks,
Alan Addison, ScoUK.net
Colin McRae MBE
R.I.P. 1968 - 2007
---
Update: 16th February 2008 - 20:18
Well dunno about anyone else, but I had a great day out! One of the best rally events I've been to so far! Nice weather great company, in the form of a few members of the Subaru Impreza Drivers Club. And a well organised event this year! (Unlike the speyisde-stages last year... hint.. hint... ) Couple nice spins, slides and a roll right infront of where we were standing. Great day!.. Oh and just to correct the lady who was staring at my car thinking it belonged to Colin McRae,, Sadly it belongs to me... If it ever was Colin McRaes car you can be sure I'd have it safely locked away in a sealed, heated, air-conditions garage... But thanks anyway

Anyway as always I'll sort out the photos I took at the event. and hopefully get them posted up by the end of the weekend.. Some really nice shots this year.. My photography skills seem to be improving!
Please bookmark this page and check back soon when I have the new photo galleries in place!!
By the way.. if you want to give me any comments/feedback about this website or make a suggestion on how I can make the website better for spectators please get in touch! I'd like to do what I can to make things better for you! and I won't know how to do that unless you tell me what you'd like to see!
Thanks,
Alan Addison, ScoUK.net
Colin McRae MBE
R.I.P. 1968 - 2007
---
Update: 13th February 2008 - 19:41
Ok sorry about the slightly inaccurate info yesterday on the stages, but I received my Snowman Rally programme today and it appears stage 2 is non-spectator due to the dodgy roads in the area .Unsuitable for lots of spectator cars.. The rest of the stages are more or less the same, stage 4 is across the road from where I thought it was but still in the same area.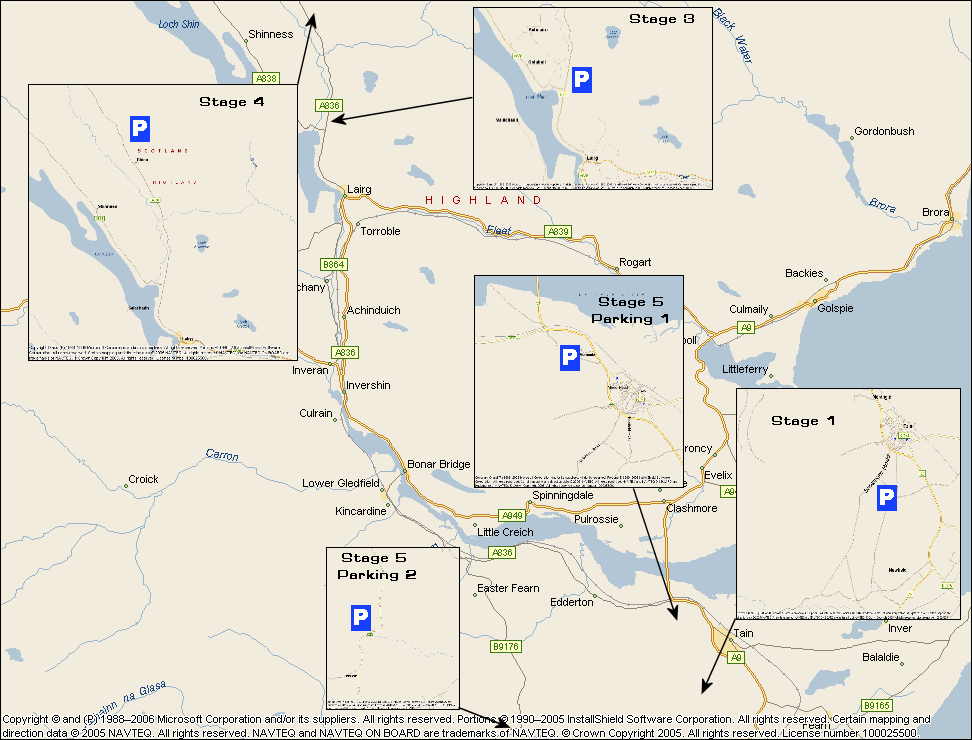 Sorry about the poorish quality map but the licence to publish proper Ordinance Survey maps on the net is more than I can afford..

Stage Times:
| | | | |
| --- | --- | --- | --- |
| | Stage | Start Time | Location |
| | Start | 9:30 | Thistle Hotel Inverness |
| | 1 | 10:37 | By Tain (Morangie Forest) |
| | 2 | Non Spectator Stage | Non Spectator Stage |
| | 3 | 12:51 | Couple miles north of Lairg |
| | 4 | 13:05 | Couple extra miles north Stage 3 |
| | 5 | 15:02 | By Tain (Morangie Forest) |
| | Finish | 16:10 | Thistle Hotel Inverness |
Note to Impreza owners.. If you have a standard alarm and are planning on going near The Thistle Hotel make sure you know your pin codes.. The big antenna on the roof jamms the key fob.. (as I discovered last year *sigh*)
Thanks,
Alan Addison, ScoUK.net
Colin McRae MBE
R.I.P. 1968 - 2007
---
Update: 12th February 2008 - 20:11
Finally I've got some locations for stages.. But still no schedule for the day so don't know what the start times are:
As suspected the stages are further north this year, located around Tain, Bonar Bridge and Lairg. Stages 1 & 5 will take place in the same forest by Tain, (in case it isn't clear from the map). Ok the map blow isn't highly detailed but the locations of stages is accurate..
MAP Removed! Information was not 100% accurate..
Please check back later tonight for real information on the stages.
... Don't worry it's not dramatically different although stage 2 is a non spectator stage

Please check back soon for when I get stage times... Or if you hear before I do, let me know!
Thanks,
Alan Addison, ScoUK.net
Colin McRae MBE
R.I.P. 1968 - 2007
---
Update: 9th February 2008 - 21:22
Just one week to go before the Snowman Rally 2008!
Sorry about the lack of updates for this years event, details have been difficult to get a hold of.

However, I have got reliable information about the general location of the stages. No official stage details have been released by the organisers yet, however I have strong reason to believe that 4 out of the 5 stages being run this year will take place north of Inverness. Particularly around the Bonar Bridge area. This should give spectators a chance to plan their day by at least knowing the general area where the days events will take place.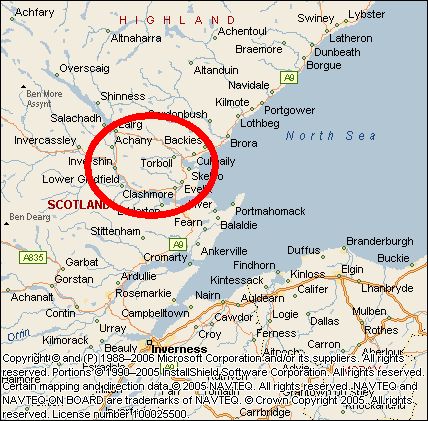 Unfortunately I cannot give out any further information as this time as the organisers will probably have my head on a platter. However official programme's for the Snowman Rally 2008 will be available from the usual outlets from Monday 11th February. As soon as I get a copy myself I will confirm the stages. If you are interested in going along to the stages to spectate please buy yourself a copy of the official programme to take with you and support the event.
Download the entry list. Or view in your web browser.
Thankyou,
Alan Addison, ScoUK.net (Contact me or give some feedback)
Colin McRae MBE
R.I.P. 1968 - 2007
---
Update: 5th January 2008 - 20:15
Happy New Year all!
That can only mean one thing! The Snowman rally is not too far away.. This year the event is scheduled for Saturday 16th February once again hosted by the Highland car club and based in and around the Highland capital of Inverness.
A request.. I promise to spend more time making this site better this year so please get in touch with any feedback or suggestions of information/features/changes you would like to see here!
Thanks,
Alan Addison, ScoUK.net
Colin McRae MBE
R.I.P. 1968 - 2007
While your waiting why not check out the 2007 Event with photo gallery!
---
The Snowman Rally 2008 - Final Results

1
3
JIMMY GIRVAN
KIRSTY RIDDICK
SUBARU IMPREZA N10
10
1
41:04
41:04
**:**
(**:**)
2
4
NEALE DOUGAN
CAMPBELL ROY
SUBARU IMPREZA
10
2
41:07
41:07
+0:03
(+0:03)
3
7
RICHARD CATHCART
MARTIN BRADY
MITSUBISHI LANCER EVO 9
8
1
41:30
41:30
+0:26
(+0:23)
4
2
DAVID BOGIE
KEVIN RAE
TOYOTA COROLLA WRC
10
3
41:42
41:42
+0:38
(+0:12)
5
11
WILLIAM BONNIWELL
IAN FRASER
SUBARU IMPREZA
9
1
41:44
41:44
+0:40
(+0:02)
6
10
MIKE FAULKNER
PETER FOY
MITSUBISHI LANCER
9
2
41:52
41:52
+0:48
(+0:08)
7
9
STEVEN CLARK
LEE KERR
MITSUBISHI LANCER EVO 4
8
2
42:39
42:39
+1:35
(+0:47)
8
14
BARRY GROUNDWATER
JUDE WYLIE
MITSUBISHI LANCER
8
3
42:48
42:48
+1:44
(+0:09)
9
17
JOHN MORRISON
MARTIN FORREST
MITSUBISHI LANCER EVO 9
8
4
43:11
43:11
+2:07
(+0:23)
10
19
RORY YOUNG
ALLAN CATHERS
MITSUBISHI LANCER
8
5
43:13
43:13
+2:09
(+0:02)
11
20
DONNIE MACDONALD
NEIL EWING
MITSUBISHI EVO 9
8
6
43:17
43:17
+2:13
(+0:04)
12
8
MALLOCH NICOLL
ROBERT LUMGAIR
MITSUBISHI EVO 9
8
7
43:17
43:17
+2:13
(**:**)
13
119
ALISTAIR THORBURN
PAUL MCGUIRE
SUBARU IMPREZA N12
8
8
43:23
43:23
+2:19
(+0:06)
14
16
CRAIG MCMIKEN
CHRISTINE SANDERSON
MITSUBISHI LANCER EVO 6
8
9
43:48
43:48
+2:44
(+0:25)
15
26
STEVEN RONALDSON
ANN MARIE FRASER
MG METRO 6R4
10
4
44:06
44:06
+3:02
(+0:18)
16
24
BRUCE MCCOMBIE
MICHAEL COUTTS
FORD PUMA
4
1
44:36
44:36
+3:32
(+0:30)
17
44
JOHN MACKENZIE
SUSAN BROWN
METRO 6R4
10
5
44:41
44:41
+3:37
(+0:05)
18
21
GORDON SMITH
BARRY YOUNG
FORD ESCORT COSWORTH
10
6
44:44
44:44
+3:40
(+0:03)
19
30
WALTER HENDERSON
JIM KINLOCH
SUBARU IMPREZA
8
10
44:50
44:50
+3:46
(+0:06)
20
31
MIKE HORNE
ROBBIE MITCHELL
FORD ESCORT
7
1
44:53
44:53
+3:49
(+0:03)
21
22
GEORGE MCDONALD
IAN NICOLL
OPEL CORSA
4
2
45:33
45:33
+4:29
(+0:40)
22
47
BRIAN STEPHEN
RYAN THOMSON
FORD ESCORT
10
7
46:00
46:00
+4:56
(+0:27)
23
34
EDDIE O'DONNELL JNR
EDDIE O'DONNELL SNR
FORD ESCORT MK2 RS2000
11
1
46:12
46:12
+5:08
(+0:12)
24
37
GRANT INGLIS
CALLUM MCLEAN
FORD ESCORT MK2
7
2
46:27
46:27
+5:23
(+0:15)
25
35
NEIL COALTER
HANNAH CESSFORD
HONDA CIVIC
4
3
46:36
46:36
+5:32
(+0:09)
26
39
ALICK KERR
DREW STURROCK
FORD FIESTA ST
6
1
47:01
47:01
+5:57
(+0:25)
27
40
CHARLIE JARRETT
GORDON CHALMERS
FORD ESCORT
4
4
47:23
47:23
+6:19
(+0:22)
28
33
ALASDAIR GRAHAM
ANDREW FALCONER
MITSUBISHI LANCER EVO 4
9
3
47:33
47:33
+6:29
(+0:10)
29
117
DAVID WILSON
JOHN WILSON
FORD SIERRA
10
8
47:43
47:43
+6:39
(+0:10)
30
52
DONALD MACLEOD
GRAHAM LAW
SUBARU IMPREZA
10
9
47:49
47:49
+6:45
(+0:06)
31
48
STEVEN BARCLAY
RONNIE MACLEAN
SUBARU LEGACY
10
10
47:49
47:49
+6:45
(**:**)
32
38
IVOR CLARK
JOHN BENNIE
TALBOT AVENGER
7
3
48:10
48:10
+7:06
(+0:21)
33
73
MIKE GRANT
GRAHAM KELMAN
SUBARU IMPREZA
9
4
48:10
48:10
+7:06
(**:**)
34
61
CALLUM BENDALL
JAMES HAUGH
FORD KA
2
1
48:23
48:23
+7:19
(+0:13)
35
72
ROY FRASER
DAVID MOODIE
FORD SIERRA
10
11
48:26
48:26
+7:22
(+0:03)
36
49
IAIN MACDONALD
ANDY JARDINE
SUBARU IMPREZA
10
12
48:27
48:27
+7:23
(+0:01)
37
70
DOUGLAS GILBERT
DAVID ANDERSON
MITSUBISHI LANCER EVO 4
10
13
48:42
48:42
+7:38
(+0:15)
38
45
ROLAND WESSEL
MALCOLM VIE
SUBARU IMPREZA
10
14
48:48
48:48
+7:44
(+0:06)
39
57
STEWART DAVIDSON
GARY BELL
PROTON SATRIA
4
5
46:49
2:00
48:49
+7:45
(+0:01)
40
36
MALCOLM BUCHANAN
MICHELLE FALCONER
FORD ESCORT MK2
7
4
48:50
48:50
+7:46
(+0:01)
41
42
SCOTT MURRAY
DAVID O'BRIEN
PEUGEOT 205 GTI
3
1
48:56
48:56
+7:52
(+0:06)
42
92
JONATHAN YOUNG
SIMON MILLS
SUBARU IMPREZA
10
15
48:58
48:58
+7:54
(+0:02)
43
89
IAN CATTANACH
IAIN CAMERON
TALBOT SUNBEAM
4
6
49:26
49:26
+8:22
(+0:28)
44
118
FRASER MACNICOL
KEITH BOA
MITSUBISHI LANCER EVO 2
10
16
49:33
49:33
+8:29
(+0:07)
45
59
GORDON STODDART
ALASTAIR LOGAN
SUBARU IMPREZA
10
17
49:48
49:48
+8:44
(+0:15)
46
69
GREGG LITHGOW
CLAIRE MCCOSH
TALBOT SUNBEAM
3
2
50:36
50:36
+9:32
(+0:48)
47
55
GARRY DICKSON
JACKIE DICKSON
PEUGEOT 306 GTI
6
2
50:43
50:43
+9:39
(+0:07)
48
85
DAVID ROSS
KYLE MACKINTOSH
SKODA ESTELLE
1
1
50:46
50:46
+9:42
(+0:03)
49
67
DONALD BROOKER
RACHEL BROOKER
BMW M3
11
2
50:48
50:48
+9:44
(+0:02)
50
62
DUNCAN MACGREGOR
FIONA MACASKILL
FORD CAPRI
5
1
50:57
50:57
+9:53
(+0:09)
51
80
CHARLIE MUNRO
MICHAEL BAIRD
FORD ESCORT MK2
1
2
50:59
50:59
+9:55
(+0:02)
52
23
GORDON MURRAY
CORRINE YEAMAN
FORD ESCORT MK 2
7
5
51:12
51:12
+10:08
(+0:13)
53
74
DONALD MURRAY
ANDY PHILIP
SUBARU IMPREZA WRX
10
18
51:32
51:32
+10:28
(+0:20)
54
77
IAN SYKES
FRANCES SYKES
LAND ROVER DEFENDER
10
19
51:53
51:53
+10:49
(+0:21)
55
84
JOANNA WICKHAM
GUY WICKHAM
SUBARU IMPREZA
10
20
52:22
52:22
+11:18
(+0:29)
56
51
DAVID MACLEAN
LYNDA MACLEAN
CITROEN SAXO
4
7
52:24
52:24
+11:20
(+0:02)
57
94
ANDREW TALLACH
LACHIE MACDONALD
FORD ESCORT
3
3
52:39
52:39
+11:35
(+0:15)
58
98
NEIL MORISON
SANDY MORRISON
TALBOT SUNBEAM
5
2
49:44
4:00
53:44
+12:40
(+1:05)
59
64
JOHN MCDONELL
JOHN ALLAN
FORD ESCORT MK3
7
6
53:46
53:46
+12:42
(+0:02)
60
99
CRAIG MACIVER
VICKI FRASER
VAUXHALL CORSA
1
3
53:46
53:46
+12:42
(**:**)
61
81
STEPHEN MURRAY
GARY MCDONALD
PEUGEOT 106
1
4
54:03
54:03
+12:59
(+0:17)
62
114
MARK HORNBY
JOHN HORNBY
FORD ESCORT RS
5
3
54:03
54:03
+12:59
(**:**)
63
5
ANDY HORNE
JIM HOWIE
DAM 4100 GTI
10
21
54:25
54:25
+13:21
(+0:22)
64
79
DEREK DUNCAN
ADRIAN BRUCE
SUBARU IMPREZA
10
22
54:38
54:38
+13:34
(+0:13)
65
76
IAN BENDALL
RICHARD BARBAR FLEMING
VAUXHALL CORSA
4
8
54:39
54:39
+13:35
(+0:01)
66
66
DAVIE GOODFELLOW
GRAHAM MILLER
PEUGEOT 205 GTI
5
4
54:41
54:41
+13:37
(+0:02)
67
103
SCOTT KERR
STEPHEN CLARK
PEUGEOT 309GTI
5
5
54:55
54:55
+13:51
(+0:14)
68
100
STUART GLENDINNING
CRAIG ROBB
FORD ESCORT
1
5
55:08
55:08
+14:04
(+0:13)
69
83
ANDY MACDONALD
RICHARD ALSOP
VAUXHALL NOVA SR
1
6
55:21
55:21
+14:17
(+0:13)
70
97
GORDON GRANT
DANIEL JOHNSTONE
PEUGEOT 106 GTI
4
9
55:27
55:27
+14:23
(+0:06)
71
78
GARETH MACMILLAN
JAMES DUNBAR
SUBARU LEGACY
10
23
55:39
55:39
+14:35
(+0:12)
72
102
MIKE RAE
CHRIS MACAULAY
PEUGEOT 205 GTI
3
4
55:42
55:42
+14:38
(+0:03)
73
75
DUNCAN CAMPBELL
GARY PATRICK
PEUGEOT 205 GTI
3
5
55:57
55:57
+14:53
(+0:15)
74
105
BRIAN ROSS
LEONA GRAY
FORD SIERRA
10
24
56:42
56:42
+15:38
(+0:45)
75
82
MIKE MOATES
PHIL COULBY
FORD KA
1
7
56:58
56:58
+15:54
(+0:16)
76
86
DONNIE MORRISON
SUSAN MALCOLM
FIAT STRADA
1
8
57:14
57:14
+16:10
(+0:16)
77
93
ANDREW GRANT
DONALD JOHNSTONE
PEUGEOT 205 GTI
3
6
57:15
57:15
+16:11
(+0:01)
78
113
DECLAN CAMPBELL
ANNA CAMPBELL
FORD ESCORT MK2
5
6
58:16
58:16
+17:12
(+1:01)
79
68
HUGH MACLEOD
ANDY HESLING
PEUGEOT 205 GTI
5
7
58:30
58:30
+17:26
(+0:14)
80
109
DAVE CHRISTIE
BOB LAUGHLAN
FORD FIESTA
3
7
59:42
59:42
+18:38
(+1:12)
81
107
TOM ROBERTSON
RONNIE CORBETT
PEUGEOT 205 GTI
5
8
1:00:03
1:00:03
+18:59
(+0:21)
82
91
FRANK MACDONALD
BILLY DIXON
NISSAN MICRA
2
2
1:00:08
1:00:08
+19:04
(+0:05)
83
116
CHARLES BELL
BRIAN BELL
FORD ESCORT MK2
7
7
1:02:02
1:02:02
+20:58
(+1:54)
84
110
ALASDAIR GRAHAM
KENNY MCGUIRE
VAUXHALL NOVA
1
9
1:03:21
1:03:21
+22:17
(+1:19)
85
106
NIGEL CRAWFORD
MICHAEL MACKAY
FORD FIESTA
7
8
1:04:34
1:04:34
+23:30
(+1:13)
86
63
JAMES KING
SEAN MACGILLIVRAY
PEUGEOT 205 GTI
5
9
1:09:26
1:09:26
+28:22
(+4:52)
87
108
JAMES CAMPBELL
RICHARD WARDLE
FORD SIERRA
10
25
1:12:14
0:20
1:12:34
+31:30
(+3:08)
88
95
GEORGE DUNCAN
MICHAEL DUNCAN
SUBARU IMPREZA
10
26
54:41
20:00
1:14:41
+33:37
(+2:07)
89
96
STEVEN WOOD
MARY WOOD
FORD FIESTA
3
8
1:19:21
0:50
1:20:11
+39:07
(+5:30)
© rally management systems limited 2008
Back to top