..:: Aberdeen Cladding and Windows
http://www.aberdeencladdingandwindows.co.uk/
The Aberdeen Cladding and Windows website first came about after the company being unimpressed by their old website and wanted something which they could use to promote their products and services while maintaining the overall look and feel of the Aberdeen Cladding and Windows corporate image.
The old host which was used for the previous website was very limiting. The company was forced to use a set template and was limited by the amount of information they could put on their site. This meant they were unable to put the content they required on the site and could not take advantage of their own style of website.
This is where I came in. Although the main marketing for the website was done by magnet4web, the site was developed from scratch using my own in house developed website platform. This meant that when the site was compete the updates which magnet4web would need to make for the marketing side were very easy to implement and change when required without the risk of damaging the site as a whole.
The overall design of the site was done by myself (Note: I don't class my self as a great graphics designer. But would like to be), as such the general look and feel of the site came from much of Aberdeen Cladding and Window's own advertising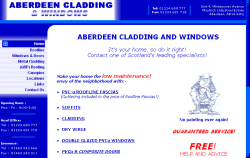 material. This meant that when a visitor comes onto the site, they know they have arrived at the correct place because the site design matched the colours and design they are used to seeing from the company.
Aberdeen Cladding and Windows were very pleased that they now have a site which they can use to promote their products and services. On the previous site there was simply mention of the products which they supply, while on their new site they are able to have photos and images showing the users and possible customers what sort of products are on offer...
http://www.aberdeencladdingandwindows.co.uk/