..:: BNI Aberdeen Alpha
The BNI Aberdeen Alpha website came about after I was approached by a member of the Aberdeen group (Michael Cheney) enquiring about getting a website put together to collate information for and about the BNI Aberdeen Alpha Group. The site was to be small in size yet flexible enough to allow for later expansion. Also nothing too extravagant was required so all graphics design for the site template was done by myself.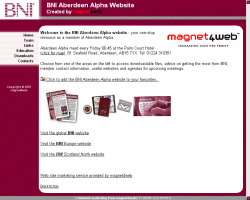 The initial scope for the site was to have a relatively small site with a few key sections for promoting information about the group while have other sections as a document resource for documents and files which are of interest to the BNI Aberdeen Alpha team. The other key specification was to ensure that the site took the style of the main BNI website without it being a direct copy of the template. The site had to look different while staying specific to the Aberdeen Alpha requirements and maintaining the graphical tie ins with the main BNI site.
Overall the site has worked out well. A fairly basic site with specific content, no dynamic forms in this one just straight to the point. Easy navigation and accessibility, while for the person(s) editing the content on the site. the base site model allows for easy alterations to the site content including easily adding new pages/sections to the site if required...