..:: Broadband 4 Longmorn
http://www.broadband4longmorn.co.uk/
The Broadband 4 Longmorn site came about after the introduction of the Broadband 4 Lhanbryde website. Another local Broadband campaigner in Morayshire (Alex McFarlane) was campaigning for ASDL Broadband to be introduced to the Longmorn telephone exchange. At the time the Longmorn campaign didn't have much of an online presense and it needed a site similar to the Lhanbryde site in order to promote the campaign online and gather registrations.
The specifications for the Longmorn site were similar to that for the Lhanbryde website. However unlike the Lhanbryde site where was no need for a discussion forum. However most of all the other features and information found on the Lhanbryde website was transferred over to the Longmorn site.
In order to keep the sense of collaboration in the community between campaigners it was decided to keep the site template and design similar on both sites with just enough differenced to inform the user that they are targeted at different exchange areas. This was accomplished mainly by changing the title image at the top of the page to a photo of the scenery around Longmorn. Also the image of the exchange building on the homepage was of the Longmorn exchange.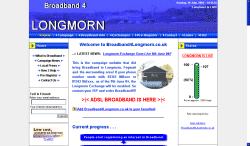 Other than these minor changes the sites were very similar, same navigation usage and to a certain extent the same information. The odd tweak here and there was required to make some of the content relevant to the Longmorn campaign.
All the content was easily up datable and adding/editing news items was also made simple so that Alex could keep the site updated with the latest news about his campaign. Similar to the Lhanbryde campaign, the Longmorn site has helped a lot in the success of the campaign as a localised source for information on the campaign. The Longmorn exchange reached it's registration target in early 2004 and the Longmorn exchange was upgraded in the early part of June 2004!
For more information on some of the more dynamic content/features of the site, please take a look at the Broadband 4 Lhanbryde development section where many of the features were copied from...
http://www.broadband4longmorn.co.uk/