..:: JB-Management
JB-Management is one of the sites which I both designed & developed from scratch. JB-Management wanted a site which allowed them to promote their services online while having the flexibility in the site design, both graphically and technically, to adapt to any future changes such as additional content, new sections to the site etc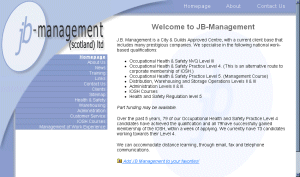 With only the JB-Management logo to work with I managed to come up with a graphical template which was eye catching, but not too intrusive. One of the first concerns were how to code the navigation menu. Initially it was designed with only one level navigation however I later discovered that the navigation would need to be capable of handling a 2-teir navigation structure. This meant that the graphics template would need to be adapted on the fly so that the sub level navigation was clearly visible while still allowing the main navigation to be displayed.
The navigation solution has worked out well. The navigation section of the site is all dynamically created and any combination of navigation items can be listed and a section of PHP code sorts out how the graphics should be displayed. This makes the template scalable to any additional number of navigation options.
The rest of the site is based on the same site core that I use on many of the sites I've developed. Written in PHP it allows the content of any page to be edited easily without disturbing the graphic template of the site. This means that very little HTML knowledge and absolutely no PHP knowledge is required to update the pages on the site.
Since the site launch there were many updates to the content of the site. This prooved a pain free task due to the way the site is created. JB-Management had reported no problems with the site, no silly errors or failing HTML forms. Everything about the site was designed to be user friendly right down to optimising the images to ensure the site loads quickly without compromising the overall look of the site...
Update: The current JB-Management website is not the same website that I created. The website has more recently been made much more modern by another company, however the snapshot image above shows what the website I created looked like..