..:: MCC Strategy
MCC Strategy was the site that came along after Seniority.co.uk but before magnet4web. MCC Strategy was named after Michael Cheney, the guy I worked with on Seniority.co.uk. Using Seniority.co.uk as a parent company MCC Strategy was formed to offer consultancy to businesses wishing to expand their presence online.
Initially Michael Cheney had his own ideas of how the site should look. The first generation of the site was in my opinion awful to look at. Using the two colours black and a dull beige (gold?) colour. These colours work well on the JPS Lotus F1 car, but not on a website that you want to be welcoming to your visitors it felt very dark and eery.
So after much persuasion I finally managed to persuade Michael Cheney to get the design / colour scheme changed. What we came up with was a site layout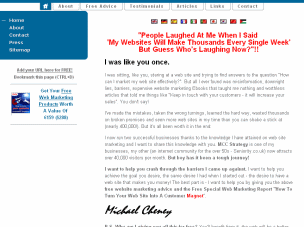 which was far cleaner and crisper.With the white background and blue objects that you see on the site today. Note that the same design template was used on the magnet4web website which I also created for Michael Cheney. The template design worked. It is very eye catching and easy to navigate. So why mess with something we know works.. As such magnet4web for the template side at least was nothing more than a copy of the MCC Strategy site but with a colour change and navigational / content changed to promote the new service.
Again with most other sites in my portfolio a Website Links Directory was installed on the site in order to assist with the link exchange between MCC Strategy and other similar websites. This links Directory for the most part was fully automated with email notification of a new link request and a simple hyperlink to accept or decline the link request, very simple to administer while allowing a administration control panel to edit and update more detailed parts of the link directory.