..:: MorayIAM.org.uk
MorayIAM.org.uk is a site which was developed to help promote the Moray Group of Advanced Motorists online in an attempt to encourage younger drivers to join the Institute of Advanced Motorists (IAM).
Key specifications for the site were to maintain the overall style of the IAM using colours and related images/logos. The site was also required to hold up to date information about the Moray Group such as course schedule, activities and contact details. In order for the website to be recognised as an official group website it was necessary to ensure that the site conforms to all HTML 4.0 standards.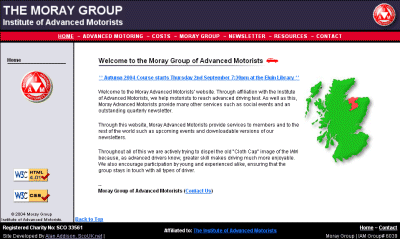 Overall, MorayIAM.org.uk is a straight forward promotion site. There's nothing too fancy here, just a neat and tidy site for the purpose of promoting a IAM groups efforts in road safety!...
Further details about the Institute of Advanced Motorists can be found here