..:: Netherton Rural Business Centres
http://www.rural-business.com/
The Netherton Rural Business Centres website is a small yet dynamic website which advertises local business centres for rent in the North-East of Scotland. Work done for this site included some page modifications, and a completely new form of site navigation. All of which enhanced the experience of anyone visiting the site.
For this project there was very little graphics design required. The website already existed with a successful site template and any additions to the site would need to complement the template by making use of the current colours and using of the site.
Main changes were to content on some pages which were not user friendly and originally gave the user the impression that they had reached a "dead end" with nowhere to go. A big no no in website design! So some pages were redesigned to make it easier for the user to find the information they are looking for which getting the feeling that there's always more to explore.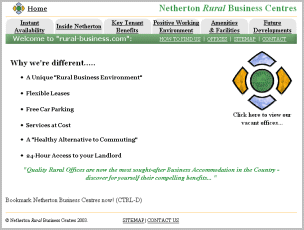 The whole navigation was completely re-designed in order to help visitors navigate through the site more easily. Previously the navigation was made up of small hyperlinks for the main sections while 2nd level navigation items were hidden in the content of pages. The new navigation is much easier to use. A visitor can see where they are at any time as the navigation highlights were you are. Also the design allows for main navigation and 2nd level navigation to be displayed on the screen at the same time so finding your way around is very simple...
http://www.rural-business.com/