..:: Seniority.co.uk

Seniority.co.uk is by far the largest web project I ever took on to date. Sure I have a few sites that I run now a days which have their own tricks but Seniority.co.uk was the site which I spent way too many waking and sleeping hours on making sure the site ran perfectly and kept advancing on a regular basis with new and exciting features. This page you are reading includes only a fraction of the things which I did with the Seniority.co.uk website. Sadly since I left the project in 2004 the website appears to have gone downhll will many dead links and lots of pages which are not easy to read. I am pretty dissappointed to see a project I have worked so hard on go downhill like that but I know what I achieved with the project and got a lot out of it. But I have moved on to better things.
So let's start at the beginning. Where is Seniority.co.uk first start. Well Seniority.co.uk was first launched in 1999 by three friends, Michael Cheney, Darren Stewart and David Bramley. At the time I was taking part in a one year industrial placement at ExxonMobil in Aberdeen as part of my University Course, which is where I met and worked with Michael Cheney and Darren Stewart.
Pretty much in the day the site launched, the three founding members realised that they did not know much about web development and HTML. As such they would have to rely on the serviced on a internet company to update the site on a regular basis. This is something that probably wasn't first thought of before launch. This is where I came in. While working with Michael Cheney and Darren Stewart at Exxon Mobil they knew about my skills and background in web development and the overall technical site of how the Internet works. So they decided to recruit me as part of the team to help out in the project.
I have to say this was one of the most exciting parts of my life, working on such a new and exciting project. Set the scene, the year is 1999 the Internet Boom! is in full swing and Online Businesses are popping up all over the place and making millions! Who wouldn't want to be involved with that if you had the skills! So from that point on I said goodbye to any chance on a quiet night instead spent many hours and all nighters updating the site, testing new features and adding them to the site. It was pretty much a full time. Practically every second away from the University studies was spent working on Seniority.co.uk.
One of the first major changes to the site was the addition of a community discussion forum. Initially the site was a small handful of pages with some relevant articles to the over 50's / silver surfers audience. What was needed to take the site to the next level was a discussion forum, so that people would come to the site not just for the interesting reading but also to meet other like minded people and establish and online community of over 50's.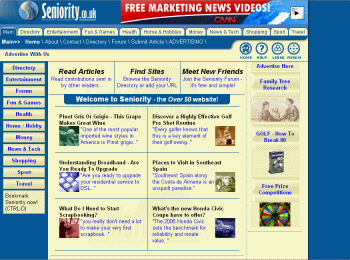 Initially things were slow, we got a few initial members but no where near what we expected. Soon we me with some hard times. This wasn't going to be as easy as we thought and before long we lost one of our team members as the project was taking up so much of our time without getting any reward back.
The problem at this stage was mainly due to lack of traffic to the site. Yeah we were getting hits and a couple of members to our forums but that was nothing on the scale of things. So new tactics were required. Marketing. Yep that good ol real word tactic of advertising your product and service to get more customers. So we did what we could learnt all we could about Internet Marketing techniques and got to work, before too long we started seeing results. Search engines were starting to recognise the site, we were attracting visitors from other rival sites, we got the site reviews in a number of magazines and news papers, even got a mention on the odd TV Program. Within the space of a few months things had gone from bad to just about hectic. We all stated to feel this was really starting to take off.
Before we knew it we found that the site was starting to strain under the load of the number of hits/visitors we were receiving and new needed a new site. The initial developers of the site implemented a fairly linear platform based on CGI/PERL scripts which weren't designed in a dynamic way and updates to the site were tedious and took hours. Something had to be done.
We booked a few meetings with local web development companies and got their advice, saw their products and what they could offer. We were just about to sign a deal for thousands of pounds to get a new system implemented when I turned round to the other members of the team and said "Oi, there's nothing I haven't seen from these companies that I couldn't implement myself" So with that I signed my life away. Potentially I knew how to go about it but In a way I dug myself a whole as I didn't have the entire knowledge to fully create what I had in mind. So for 3 whole months non stop over the summer break between my 3rd and 4th year at University I set about learning all I could about PHP and MySQL.
My god at the end of those 3 months was I impressed with myself and my teammates were gobsmaked at what I had come up with. The entire Seniority.co.uk website was completely re-written from the ground up. Not one piece of code was left over from the initial site which was launched 12 months previously.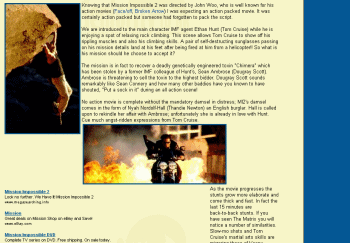 Every bit of code was written by me. Never been one to blow my own trumpet but Woohoo! what an achievement. The site although looked more or less the same in order to keep the site easy to use and not confuse our regular users the overall look of the site was cleaner crisper and felt more friendly But behind the scenes there was a completely new Advertising section and brand new bespoke content management system which was tied in with everything the site had. Where changes used to take someone and hour, now only took 2 minutes. I kid you not!! The site felt alive it felt like a living thing that it would automatically adapt to whatever we wanted from it.
Over time the site has been added to with various other bells and whistles to make marketing the site and its content easier and more effective that same basic scalable platform I developed back in 2002 is still very much in place today and shows no sign of giving up. Even now I use the same basic principals in all the sites which I develop. This makes the sites very easy to update and add to.
So what happened? Well as time went on despite the popularity of the site, the .com bubble had burst and you could say we missed our chance. The site was not making the sort of money we had originally expected and life was getting hard. Families were getting stressed due to the time spent working on the project and we lost another team member. Without the rewards it was difficult to keep motivated. This left us with just two people left on the project. Michael Cheney and Alan Addison (me). For a couple more years things worked well. I spent every night until the very early hours in the morning making sure the site was running smoothly and kept it up to date, while trying to moderate the rather roudy users of the discussion forum. Actually anyone who says "old" people are boring are sadly mistaken!! I learnt a great lesson from all the visitors of the Seniority forums and that is you never truly grow up. Great sense of humor from all and of course the odd playground bully. What an incredible environment.
Sadly as things went on without getting any financial return from the site I had to throw in the towel. In 2004 I decided to leave Seniority.co.uk and concentrate on my own projects elsewhere. While Michael Cheney carried on with his Internet Marketing career, there was no place for me there. I has the skills and experience but we went our separate ways. Just one of those things I guess when you work with someone for aa long period of time.
So what of Senioirity.co.uk today. Well Seniority.co.uk Ltd. is the parent company of many other smaller companies which are related to online marketing, some of which I developed the sites for. As for the Seniority.co.uk site itself, almost as soon as I left the project the discussion forums were sadly closed own, it seems no one but me could keep them alive and things got too much for the owners and instead of keeping things going the site slowly started to close it doors with many areas failing to be updated and an increasing number of dead links around. Really is quite a sad end to a long project. Seeing it dry up and crumble before my eyes after I walked away. But I was getting very little out of it, I had learnt so much about web development and Internet Marketing that I needed a fresh start, I needed to work on projects that could really achieve something. That is precisely one of the hobbies I'm working on today, which is getting increasingly more productive and exciting each and every day.