..:: WebsiteMarketingBible.com
http://www.websitemarketingbible.com/
The Website Marketing Bible was the final site I created in conjunction with Michael Cheney. The Website Marketing BibleTM book was to be Michael Cheneys break into the Internet Marketing world, and clearly he needed a good reliable website to help promote his new book, The Website Marketing Bible.
The website itself is fairly straight forward. Similar to that of a brochure ware site, whereby little in the way of deep content is promoted, but rather a small website to promote a product or service while halving a couple of additional pages to handle contact information, terms and conditions and of course the all important online ordering page.
The online ordering part of the site if very straight forward. All transactions for the selling of the Website Marketing Bible is done through the clickbank service, which is becoming very popular for people selling their electronic based products online. The clickbank service not only lets you list their product with them but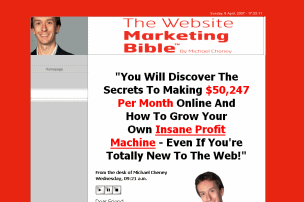 also deals with any and all transactions meaning all that was required on the Website Marketing Bible site was a small form to pass a few key pieces of information over to the clickbank transactions site which could complete the order and send the user back to a page on the Website Marketing Bible site thanking the user for their order.
Fairly simple really, but very VERY effective. The Website Marketing Bible has been sold thousands upon thousands of times and is still selling today with updated versions of the book becoming available all the time.
If you are interested in ordering the Website Marketing Bible book or simply interesting in finding out more about it Click here !
http://www.websitemarketingbible.com/