BMW's iNext is expected to be the first car to benefit from new platform
FCA joins partnership with BMW, Intel and Mobileye; platform is set to underpin BMW iNext

Fiat Chrysler Automobiles has joined the BMW Group in a partnership featuring tech firms Intel and Mobileye to develop an autonomous car platform.

The Italian-American brand, which arrives a year after the coalition was first formed, will contribute to the ongoing research and development of an all-new platform that?s claimed to offer up to level 5 autonomy.

The platform is being produced to be scalable, with ?entry-level? versions enabling level 3 autonomy, where the car can become autonomous in certain scenarios like motorways. Top level 5 cars will be able to control themselves in all scenarios.

The platform will be used by future BMW Group and FCA models, benefitting from software and hardware supplied by American tech company Intel and Isreali driverless tech company Mobileye.
A fleet of 40 autonomous vehicles will make it onto roads before the close of 2017 to test the software and hardware. This fleet will be added to an existing 100 vehicles that have already been deployed by Intel and Mobileye.
?In order to advance autonomous driving technology, it is vital to form partnerships among automakers, technology providers and suppliers,? said FCA CEO Sergio Marchionne. ?Joining this cooperation will enable FCA to directly benefit from the synergies and economies of scale that are possible when companies come together with a common vision and objective.?
BMW is the first of the two car brands to confirm when its autonomous model, the iNext, will arrive. Due in 2021, it will offer level 3.5 autonomy and use an all-electric drivetrain capable of over 311 miles.
The partnership is not the first time FCA has invested in autonomous technology. The brand supplied Google's Waymo car brand with 100 new Chrysler Pacifica Hybrid MPVs that were specially adapted for autonomous tech last year. Waymo announced at the start of 2017 that it intended to develop autonomous cars with partners like FCA, rather than making its own vehicles.
Concept?s bonnet features the clamshell design that is a hallmark of previous Z4s
Rear-wheel-drive two-seater boasts fresh styling, revised engines and a new soft-top; it previews a production Z4 due next year

BMW has revealed the Concept Z4, a preview of the German firm?s third-generation roadster, at the Pebble Beach Concours d?Elegance in California. 

Boasting a fresh look, new underpinnings and a revised range of engines, the two-seat soft-top has been developed ?in a joint engineering programme with the new Toyota Supra, which will be offered exclusively in coupe? guise. 

The appearance of the Concept Z4 comes more ?than six months before BMW plans to unveil the production version at the Geneva motor show in 2018. UK sales will be under way by the middle of next year.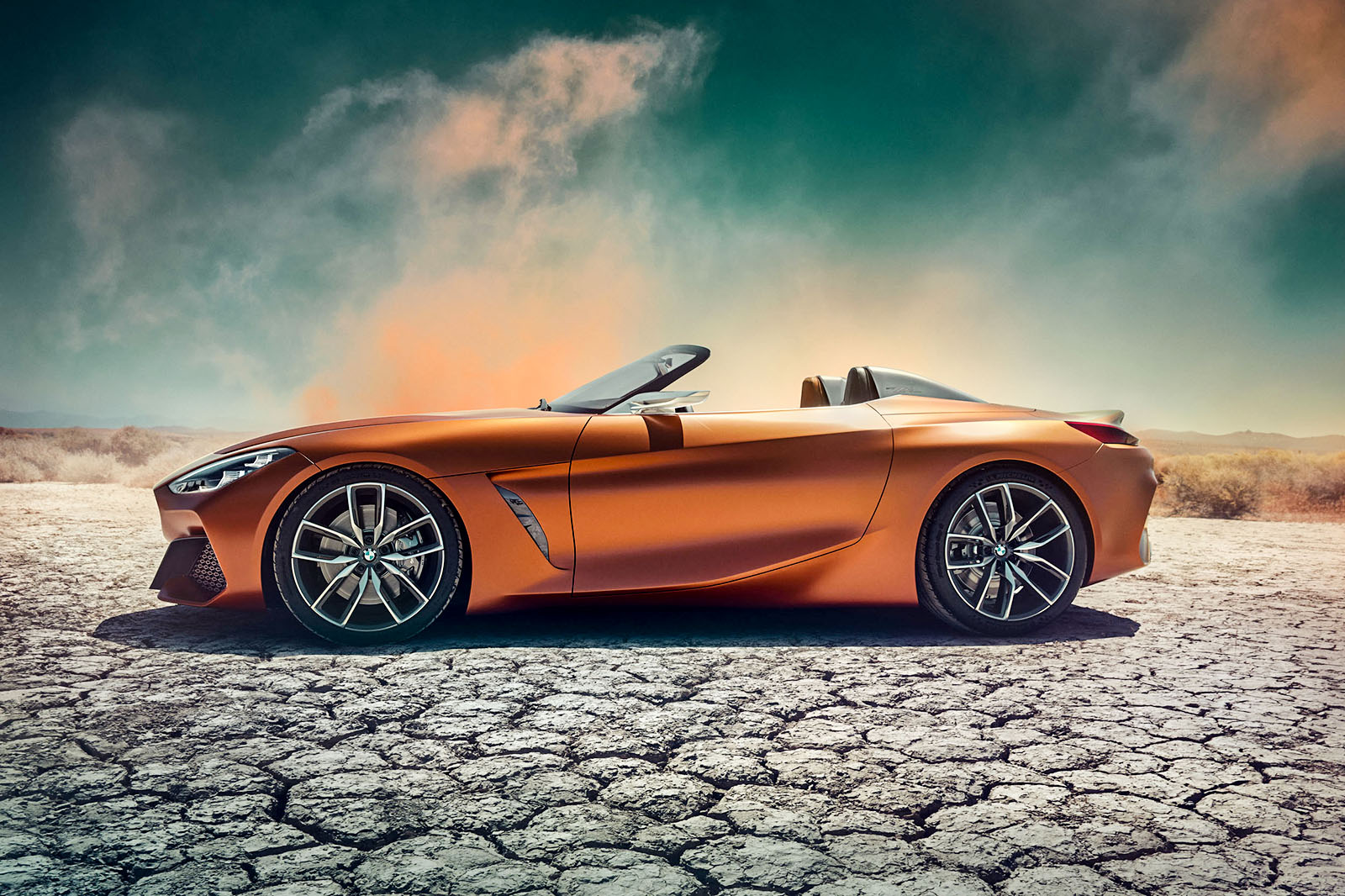 While some of the more flamboyant design features will be toned down, the overall styling and detailing of the concept is claimed to be ?very close to the production car. Design boss Adrian van Hooydonk said the car ?expresses the new BMW design language from all perspectives and in all details?. 
The Concept Z4 is bigger than the current model, with a longer wheelbase and wider tracks. BMW rethought the proportions in a bid to provide it with a more focused look. ?A shorter bonnet and crisp overhangs ensure the driver sits closer to the centre of the car than in previous BMW roadsters,? said van Hooydonk. The approach signals BMW?s determination to shift the Z4 further upmarket. During the car?s development, BMW board members considered renaming it. However, the German car maker?s naming system groups even numbers among its coupe?s and cabriolets, so the long-mooted Z5 badge was never seriously considered.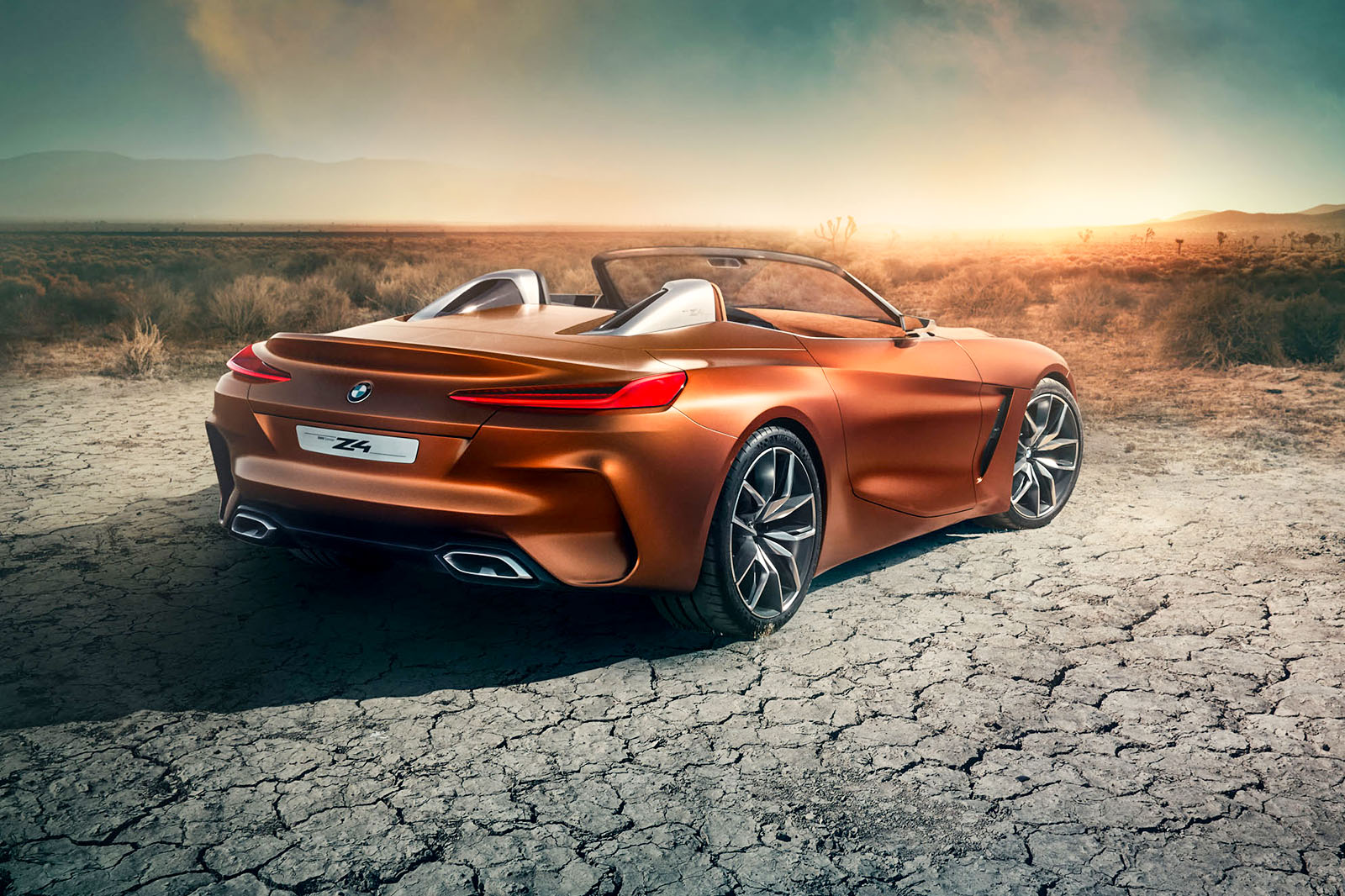 A BMW source said: ?We would have had to call it the Z6. And while there has been a move upmarket, it?s not quite big enough to warrant that name. In the end, we settled on retaining the Z4 name.? 
The Concept Z4 features another interpretation of BMW?s signature kidney grille, seen recently on the Concept X2 and Concept 8 Series. 
In place of the customary vertical bars, the insides of the kidney grille feature a new mesh that van Hooydonk said was inspired by the functional treatment used on early BMW roadsters, including the iconic 328 Mille Miglia. 
The long bonnet, meanwhile, retains the clamshell design of previous Z4 models. On the concept, it features two vents. However, these are unlikely to make production, according to Autocar?s sources.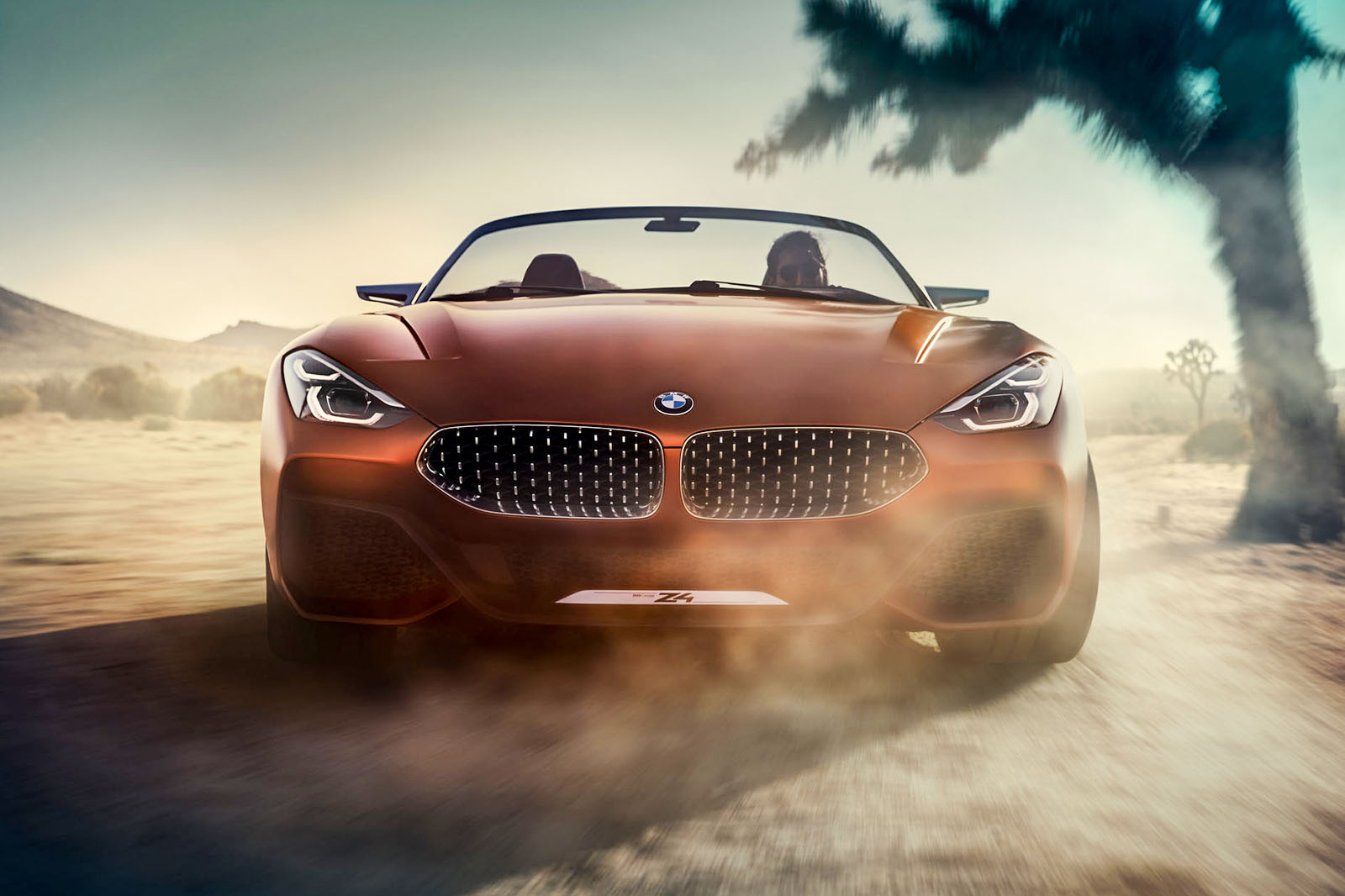 Certain licence has also been taken with the concept?s windscreen, which does not have the sturdy surround of the production version, and the two metallic domes conceived to act as rollover protection will be replaced by more conventional rollover hoops on the production roadster. 
Although BMW has yet to officially confirm it, the new Z4 eschews the folding hard-top of today?s model for a traditional fabric hood. Already sighted on prototype versions of the two-seater, the hood folds and stows underneath a dedicated tonneau cover at the rear of the cabin. 
BMW has provided a clear glimpse of the look and layout of the new Z4?s interior. The production car will have a flowing dashboard and relatively wide centre console resembling those of the concept. Features such as the digital instrument panel and head-up display included in the show car will also make their way on to the new roadster. However, the brushed aluminium and carbonfibre trims will be replaced by more cost-effective composite plastic materials.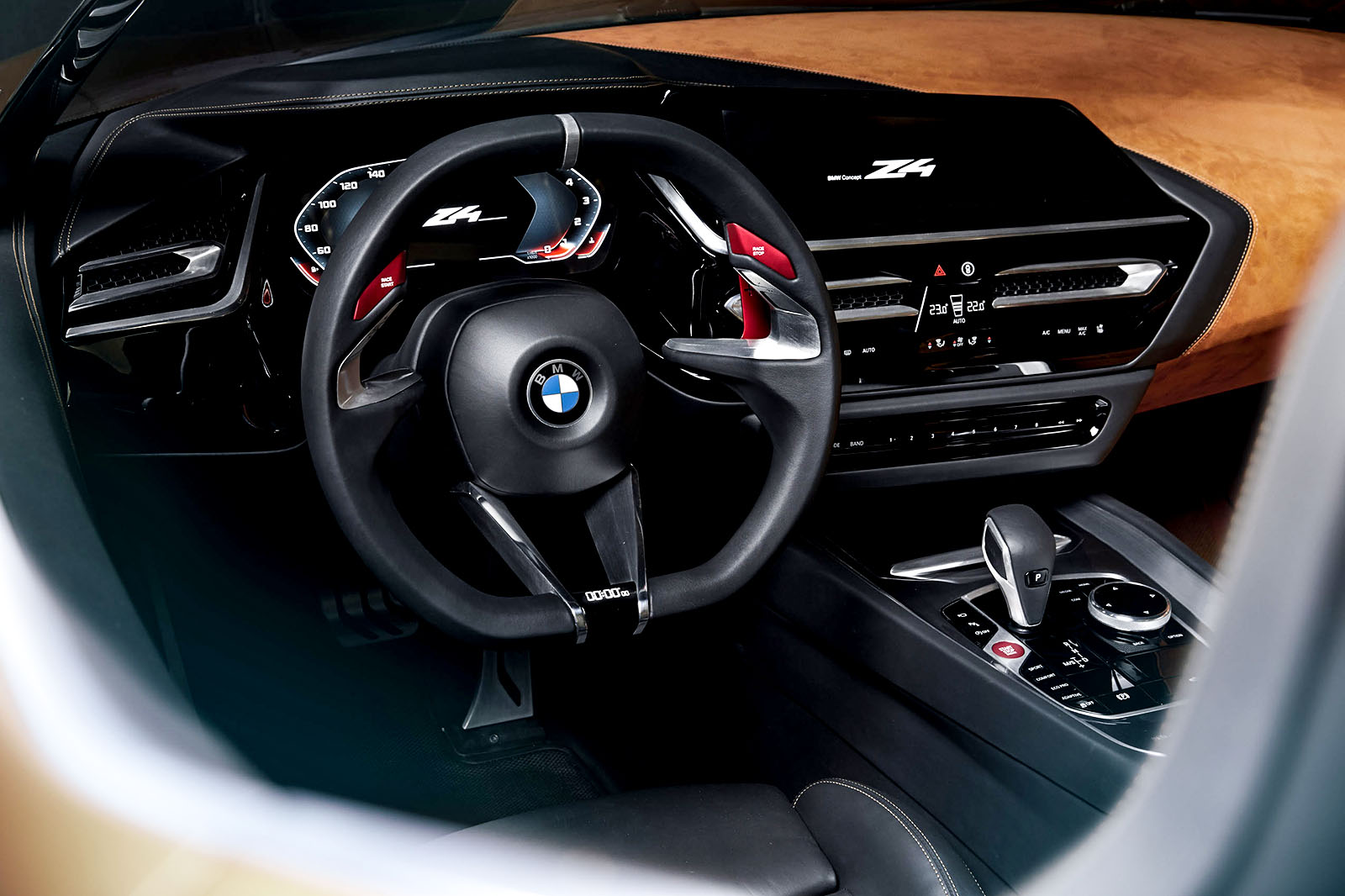 Accommodation is said to have improved thanks to the car?s increased overall dimensions. Boot capacity is also claimed to top the 310 litres of the outgoing Z4. 
The new Z4 is underpinned by BMW?s CLAR (cluster architecture) platform. It is already used by the 2, 5 and 7 Series and is also set to be adopted by the upcoming 8 Series and the successor to today?s 3 Series. The CLAR platform is allied to a multi-material body structure, featuring a combination of high-strength steel, aluminium and magnesium. Insiders suggest the new roadster will tip the scales at under 1400kg in its most basic form, despite the increase in dimensions. 
An internal BMW document seen by Autocar revealed that the new Z4 will be offered with a choice of two petrol engines from the start of sales. The first is a turbocharged 2.0-litre four-cylinder unit expected to develop around 181bhp in the Z4 sDrive20i and 248bhp in the Z4 sDrive30i. The second engine powers the Z4 M40i and is the latest incarnation of BMW?s B58 turbocharged 3.0-litre in-line six-cylinder engine. It is rumoured to develop the same 355bhp as it does in the X4 M40i.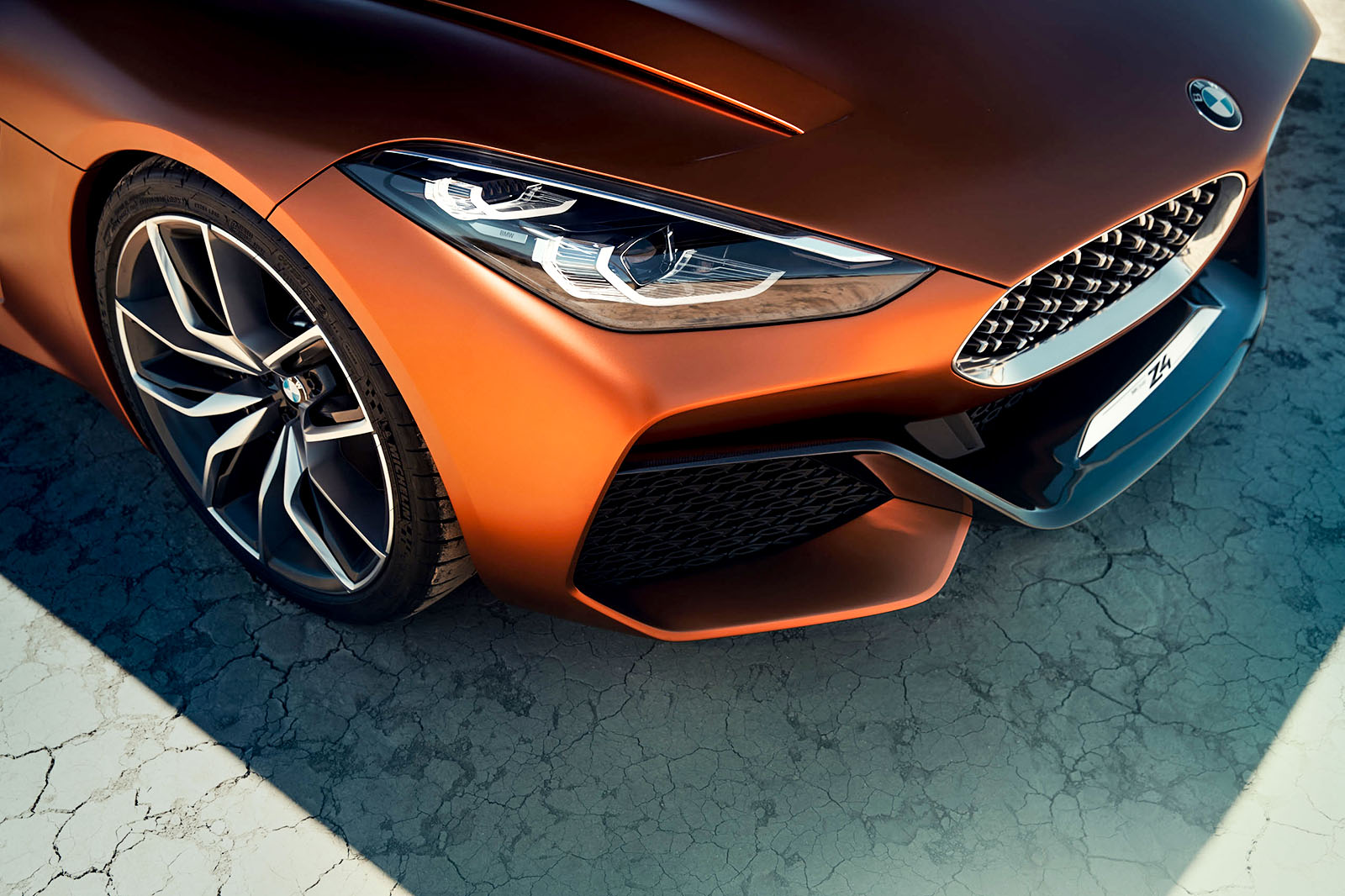 A full-blown M version of the roadster, running the BMW performance car division?s 425bhp twin-turbo 3.0-litre in-line six-cylinder, has also been mooted, but it has yet to be officially confirmed by BMW. 
True to tradition, the three initial Z4 models retain the rear-wheel-drive layout that has been part of the two-seat roadster?s appeal since its introduction in 2002. Buyers are set to be offered the choice of a six-speed manual or eight-speed automatic in combination with all engines. 
Production of the new Z4 and Supra will start at the plant of Austrian manufacturing specialist Magna in early 2018.  
Read more: 
Take a look at the current car, in our 2016 BMW Z4 review 
Upcoming Toyota Supra spotted testing
See all of our BMW reviews in one place here 
BMW X2 to be headed by 296bhp M35i xDrive model
BMW 8 Series Concept: an in-depth look with designer John Buckingham
The new Audi RS3 is a monster of a hot hatchback. It has a 2.5-litre, turbocharged, five cylinder engine making a whopping 394bhp, which it puts through all four of its wheels.
So it should be faster than the (relatively) puny 335bhp BMW M140i, right? 
Well, let's see, in this Audi RS3 versus BMW M140i track battle. 
But going faster from point-to-point is one thing. Having fun while you're doing it is quite another. And so to the more pertinent question: which of these mega hot hatchbacks its the more entertaining steer. Join Matt Prior and Mauro Calo as they find out.
Another Aston Martin executive has left to join Dyson as speculation surrounding the appliance company?s first car grows.
David Wyer has left his role as director of purchasing at Aston Martin after 22 years at the the company to become Dyson's head of procurement, reports Bloomberg. 
Wyer is the second Aston Martin executive in as many years to head to Dyson after product development director Ian Minards moved into the same role at the Wiltshire-based company. 
The move caused a stir, as did Dyson's hiring of Tesla communications executive Ricardo Reyes earlier this year, fuelling the intense speculation around the British company's development of an electric car.
Wyer confirmed his exit from Aston Martin on professional social media site Linkedin, saying: ?So, after 22 years at Aston Martin, today is my last day as I leave one great company to take up an exciting opportunity with another, as Head of Procurement at Dyson.
?I have thoroughly enjoyed my time at Aston Martin and have many great memories that will stay with me for a long time. I firmly believe that you work for people, not a company, so I wanted to take this opportunity to thank a couple of people that I have worked for over the years.?
More speculation was stirred up around the Dyson car last year, when a government document read: ?The Government is funding Dyson to develop a new battery electric vehicle at their headquarters in Malmesbury, Wiltshire. This will secure £174 million of investment in the area, creating over 500 jobs, mostly in engineering?.
The document was quickly altered to say ?The Government is providing a grant of up to £16m to Dyson to support research and development for battery technology at their site in Malmesbury.?
Read more: 
Dyson car: former Aston Martin product development director joins Dyson
Dyson denies electric car rumours
Earlier this week, a faithful reader from Australia called Darren contacted us with an enviable problem ? he can?t decide whether to buy a like-new condition Renault Mégane RS 275 Trophy-R or a brand new Toyota GT86.
This is easy, I thought. Both are fantastic cars, but you?d have to have the hot Mégane, right? I mean, it?s essentially a front-wheel-drive Porsche 911 GT3 and financially speaking, it?s going to be the one to appreciate.
But then I paused, pondering the purity of a front-engined, rear-wheel drive sports car. Surely, my conscious countered, if the prospect of appreciation were ignored, the GT86 would be the more natural choice for a driving enthusiast.
My heart was almost sold on the GT86. Then I remembered a comment said a few years back in the office of Evo Magazine, my previous employer, where Autocar contributing writer Dan Prosser also used to work. After a stint on circuit in some of the year?s hottest hatches, he asked ?why would you ever need rear-wheel drive when front-drivers handle like that??.
Those words reverberated with me when I had my first stint in a 275 Trophy-R. At the time, it was the most focused road car I had driven, yet it was also one of the most approachable. It had ultra-responsive steering guiding the sharpest chassis I?d encountered, all to the soundtrack of the turbocharged 2.0-litre engine?s distinctive ?blast furnace? voice ? a byproduct of the remnants of 271bhp being channelled through an Akrapovi? exhaust.
Drive it at a snail's pace and the Mégane still feels special, largely because you?re held between the bolsters of a delicious Recaro bucket seat and strapped into a red racing harness. Behind you, there?s nothing but a half roll cage and the crackling sound of stones tapping the rear wheel arches, such is the lack of insulation. The Trophy-R is a road-legal touring car.
The GT86, on the other hand, feels rather regular at first. Okay, its seating position is low and you?re always conscious of the car?s sleek body, but the atmospheric four-pot boxer engine feels strangled below 3000rpm and the interior is uninteresting.
Spend five minutes pootling through town in one, never tapping into its engine?s high-rpm groove, where 197bhp live, and you?d question the legitimacy of the car?s claimed 0-62mph time of 7.6sec ? which isn?t particularly fast in the first place.
Darren won?t be driving his car through town very often, though, since his purchase will spend its time on country lanes and sometimes on track. This drastically helps the case of the GT86, because at pace and on the limit, it's one of the most engaging cars money can buy in any price bracket.
In a race, the Trophy-R, on its sticky Michelin Pilot Sport Cup 2 tyres, would be so far off into the distance that it?d be a mere speck on the horizon by turn three. But the driver of the GT86, with its Prius-spec Michelin Primacy HP tyres, wouldn?t care, because of the workload required from behind their car?s steering wheel. This is a car with a 53/47 front to rear weight distribution, remember. It?s exhilarating to drive on the limit.
At this point, I was stuck. The choice was simple: pure rear-wheel-drive sports car or ultra-focused road legal touring car, a pair of very different offerings but both equally as appealing as the other. In the end, I stuck to my guns and recommended the Trophy-R, because it is such a special place to depress pedals and turn an Alcantara-wrapped wheel. But I did so with doubt, knowing that a front-engined, rear-wheel-drive sports car is possibly the purest form of performance car in existence.
In reality, the rarity of the Trophy-R means it?s also the smart choice for a buyer; no doubt it?ll become an auctioneer?s favourite in a few decades from now. But true car enthusiasts don?t buy cars for their investment value. So, I ask you, Autocar reader, where would your money go?
More content:
2018 Renault Mégane RS pictures leak online
2018 Toyota Supra seen with production bodywork and lights